All Occasion DJ Service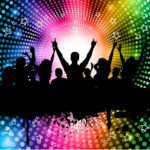 Sight and Sound Productions works and performs weddings, corporate parties, holiday parties, night clubs, restaurants, class reunions, proms, graduations, and private parties. With over 20 years experience working as DJ's and MC's rest assured our staff knows exactly how to treat each event.
With Sight & Sound Productions, we will always show up early for setup. Our DJ's wear event specific attire and are pleased to work overtime if need be. We cater to your musical tastes, not ours, and we will always welcome requests.
We offer state-of-the-art sound, light and entertainment shows to match your needs as well as your budget. With over 40,000 song titles to choose from from the 40′s to today all on compact disc for exceptional crystal clear sound at a volume level that's controlled by you, the customer.
Sight and Sound Productions is a proud member of the American Disc Jockey Association.This non-profit organization started by disc jockey companies ensures that DJ companies maintain a high standard of quality in performance and business ethics. There are certain criteria that the DJ service must uphold to qualify. This endorsement shows the extra steps taken by Sight and Sound Productions to improve our quality of service for our customers.
We are professional DJ's, this is just not a hobby. We are Passionate about the music that moves you. Music is the soundtrack of our lives, we consider ourselves artists, and if music is our paint, we would have more colors that you could imagine.
Over the past 20 years we have DJ'd thousands of successful receptions and events. The next one should be yours – click here to contact us today.
We only schedule one reception per Saturday with two DJ's and a mobile system. That gives you the peace of mind knowing our priority that day is your event.
You personally will get to meet and know your DJ in advance. Chuck and Tony's personal cell phone numbers are available for you contact us at any time, right up to the day of your event. We will sit down with you and customize a bridal format time schedule and playlist that is catered to your tastes.
Statistics show that 81% of wedding couples and guests say that the main thing they remember about a reception or event is the if the DJ was good or bad. They also felt that the music was the most important part of the evening standards. (Sources from: USA today, TheKnot.com, Wedding Channel, Perfect Wedding Guide and Bride Magazine.)
We offer deluxe 4 speaker sound systems with light shows and backup equipment on site. This includes 6 hours of event time instead of 4 hours, 2 DJ's not 1, wedding planning coordination, wireless microphones, decorative uplighting, slide shows, photo booths, professional videography, and on location music for ceremony set-ups. We also do not charge for travel or setup time.
We use state of the art software that is similar to what professional radio stations use for their programs. We can pull up any song in our 500,000 song library in seconds for instant gratification or on the fly mixing.
Our DJ's have bar and night club experience as well as other mobile events like weddings, school dances, radio shows, corporate events, bar and bat mitzvahs, and charity events.
All of our music, videos, and karaoke are licensed and paid for. We own the right to everything in our libraries. This is a distinguishing mark of a true professional DJ service.
No price is a good price if you don't like the finished product and or service.